Sunday in the Garden
It was another scorching hot weekend in Cincinnati. I decided to head out to garden early Sunday morning, around 7:30. It didn't help, I was dripping sweat (that paints a lovely picture, right?) by 7:45.
But it's amazing how time flies when there's so much to do and so much going on in the garden. And, while I was happy to wrap up my garden work and head to the pool with my husband right after lunch, here's some of what caught my attention in the garden.
Our resident bunny is super cute, even when spotted nibbling asparagus ferns!
The clover seems pretty tasty, too. Reminds me of picking clover for my pet rabbit when I was young!
The wildflowers finally took off. So much pollinator action in my backyard retreat – it's generally my first and last stop in the garden each morning and evening.
The coneflowers were getting lots of action from the bees. I also spotted this eight-spotted forrester moth. The spots are super cute, aren't they? And check out the Latin name: Alypia octomaculata. That would be a great alter ego name!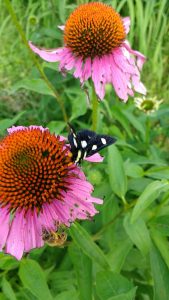 This red admiral butterfly kept me company for a bit, too. I think it's almost prettier with its wings closed.
I harvested a bunch of vegetables including 27 of these lovely, lovely Detroit Dark Red, Golden, and Chioggia beets! I've been super happy with my spring-planted beets and hope the fall-planted ones do just as well.
I also harvested all the shallots. This picture doesn't do the harvest justice. There are shallots on top of shallots on top of shallots. They need to cure for a week or so but should store well all fall and winter. Yum!
I also harvested and quick-pickled a bunch of hot peppers. Mainly jalapeños but there are a couple Hungarian wax peppers in there, too. Sorry for the terrible picture! I'm planning on sharing better pics and a non-recipe for pickled jalapeños later this week.
What about you? How was your Sunday?